1969 Alfa Romeo 1750 Spider Veloce -- SOLD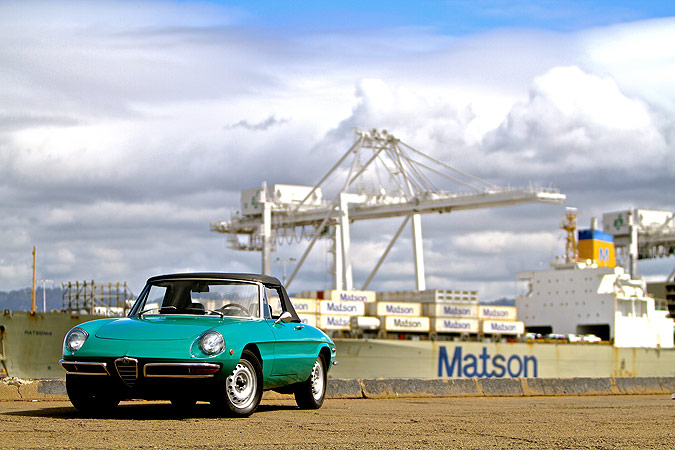 Click on any of the photos to enlarge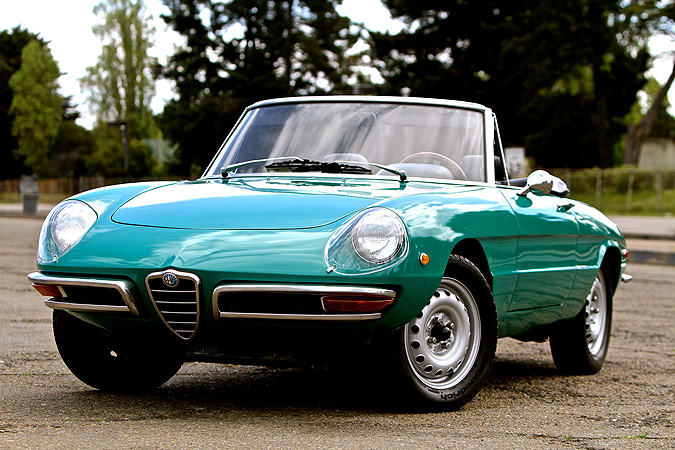 We could go on and on about the last of the 105 Series round-tail spiders, but let's skip straight to the description of the car. First off, this is a very nice looking driver with recent paint and rust repair showing 86k on the clock. By no means was it a rotisserie restoration, nor is it detailed out for show underneath, but it is a smooth driving spider that shifts properly (no second gear syncro issues with its five-speed transmission) and will put a smile on your face every time you get behind the wheel, while attracting admiring looks and comments wherever it goes. The car was aquired in 2007, and it has shared garage space with a number of other Alfas and completed a couple of Alpine 500 and Snowball rallies.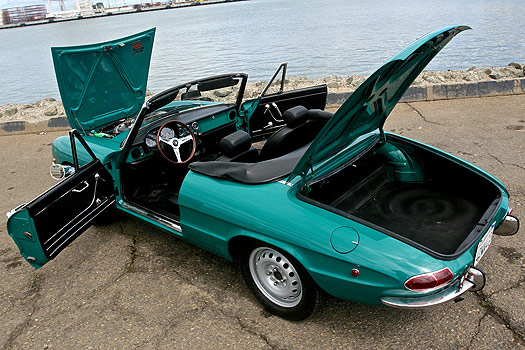 1969 Spider attributes:
Twin-overhead cam 4-cylinder - 1750cc
SPICA mechanical fuel injection
5-speed transmission
4-wheel-disc brakes
Electronic Igntion
Koni Shocks
When purchased from another Alfa-fanatic friend, it was a solid running driver with some known outer rocker rust issues but overall a fairly straight car with BWA wheels, and a tattered top.  We swapped the 14" BWA's for a set of powder-coated 15" steel wheels with the hubcap clips removed (on purpose, because we like the way they look without the chrome discs) and ran the car sans bumpers and top for several years. In May 2010 it went to D&M AutoBody in Albany CA, where we discovered a fair amount of fiberglass and bondo in the outer rocker corners, and some fairly fun stuff underneath in the inner rockers. A mix of new and rust-free old pieces were used to reconstruct the inner/outer corners. The dash, engine compartment and trunk were not painted, as the original "Apple Green" was in decent condition. It emerged from the shop in June of 2011 looking sharp. We installed the plastic European headlamp covers as it completes the elegant shape of the front fender lines.
The interior is clean and presentable, but not perfect. While the seats were rebuilt and recovered, the majority of the interior was simply cleaned and reinstalled. An undersized aftermarket steering wheel was replaced with a Nardi. The dash pad has a single split on the driver's side. Door panels are serviceable originals, and the rubber floor material is decent, with the exception of a smallish hole from wear on the driver's side. We have the center console / ashtray, but prefer the clean look without it installed. The tach and speedo both work, and have a slight hazing that could probably be cleaned if disassembled. Oil pressure and water temp gauges work properly and show 50+lbs  and 185 degrees when running. The fuel gauge isn't accurate - it reads full for about 10 minutes if the tank is full to the neck, then drops to read empty. It has a period correct Audiovox radio, ironically no speakers are present.
During our time with this spider we've performed routine maintenance, replaced the water pump, SPICA fuel injection belt, had the radiator recored, replaced miscellaneous tie-rod ends and flex brake lines, and fuel filters. Prior to our ownership at some point someone removed the dual brake boosters, but the pedal effort isn't drastically different than our '65 GT fitted with a booster.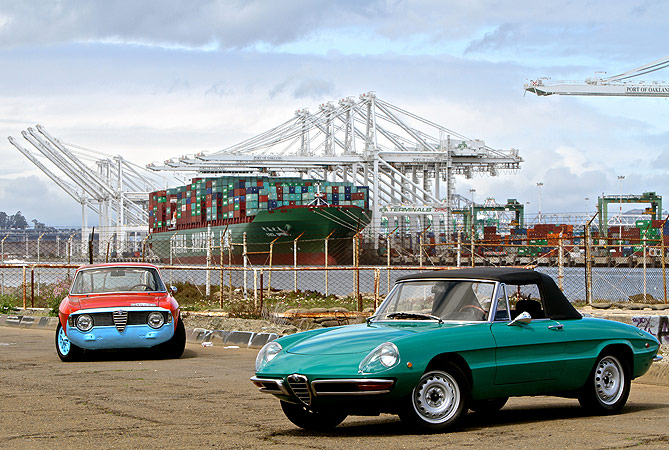 The smooth Pininfarina lines, and real world drivability of these Alfa Romeos make them rewarding to own and enjoy.
Photos below: More exterior shots.
More from the interior
Under the hood and trunk - neither were resprayed, as the original paint was serviceable.
Underneath
Shots from the paintwork
On events